This Valentine's Day, make it easy on yourself and show your special someone how much you care with a delicious homemade cocktail. We've gathered up our favorite and easy Valentine's Day alcoholic drinks for you in this article! Whether you are looking for something light and refreshing or strong and indulgent, we have the perfect easy-to-make drink recipes to help make your night extra memorable. These 10 easy Valentine's Day alcoholic drink recipes will be sure to impress!
Table of Contents
Why easy drinks are the way to go on Valentine's Day
Valentine's Day is the perfect time to pull out all the stops and impress your special someone with an easy-to-make yet delicious cocktail.
Many easy-to-follow recipes make it easy to whip up a romantic beverage without being an experienced mixologist.
Not only do easy drinks allow you to spend more quality time with your loved one, they also help save time and money while still creating a memorable experience.
With easy-to-follow steps, easy ingredients, and minimal preparation, even novice bartenders can show off their creativity while enjoying a lovely evening at home.
From light and refreshing beverages like spiked lemonade or sangria to creamy cocktails like white chocolate martinis or espresso martinis, there's something for everyone this Valentine's Day!
The One Mistake People Make When making easy Valentine's Day alcoholic drinks
When making easy Valentine's Day alcoholic drinks, many people make the mistake of thinking that easy recipes mean sacrificing flavor and complexity.
However, easy-to-follow recipes can still yield delicious results that will impress those you love.
Many easy recipes are made with simple ingredients like fruit juices and spirits, allowing you to quickly create a delightful beverage while still adding elements of surprise with fresh herbs, spices, and garnishes.
Additionally, easy drinks require minimal preparation time, so you can focus on spending quality time with your loved one instead of slaving away in the kitchen.
Easy recipes are also great for those new to mixology, as they provide an easy way to learn techniques while creating a delicious drink. So don't let easy Valentine's Day cocktails fool you – these tasty drinks require no sacrifice when it comes to flavor or creativity!
10 Delicious and Easy Valentine's Day Cocktails
Valentine's Day is when the celebration of love takes center stage. What better way to show your sweetheart how much you care than with an easy and romantic alcoholic beverage?
Whether you're hosting friends or spending time alone together, these easy valentines day drinks will bring a little extra spark and sweetness to the night.
1. Strawberry Margarita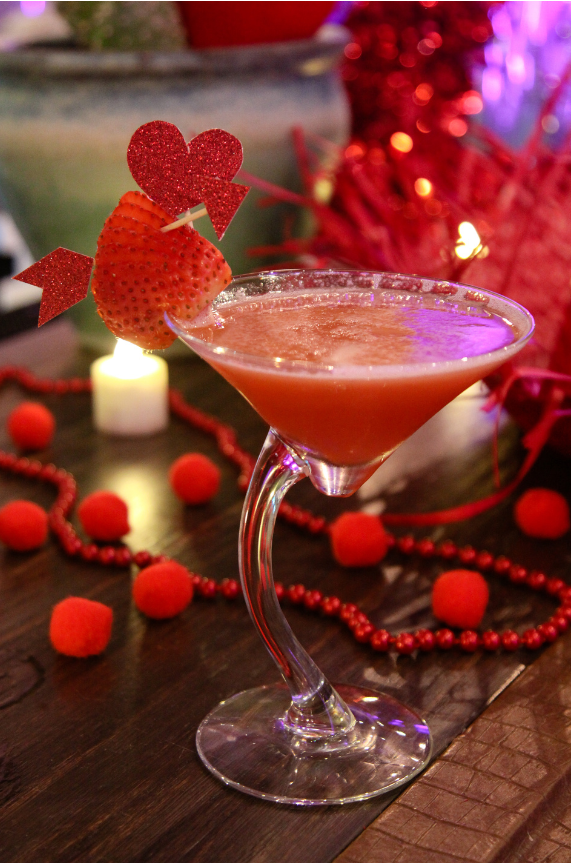 To make this easy and delicious margarita, you will need a few simple ingredients – tequila, triple sec, lime juice, and strawberry puree or strawberry liqueur.
A Strawberry Margarita is easy to make and perfect for sweet Valentine's Day drinks.
First, fill a rocks glass with ice and set aside.
Pour one part tequila, one part triple sec, two parts lime juice and one part strawberry puree into a shaker and shake vigorously until blended.
Strain the margarita into the rocks glass over fresh ice.
Garnish the rim of the glass with a slice of lime for an extra special finish.
For a real treat on Valentine's Day, try adding some fresh strawberries as well!
Simply muddle three to five small strawberries in the bottom of your shaker before pouring in the other ingredients.
This adds a sweet strawberry flavor and aroma that will elevate your Strawberry Margarita!
Not only easy to whip up in no time at all, but Strawberry Margaritas are also sure to please your loved one this Valentine's Day! Enjoy responsibly!
2. Cranberry Mimosa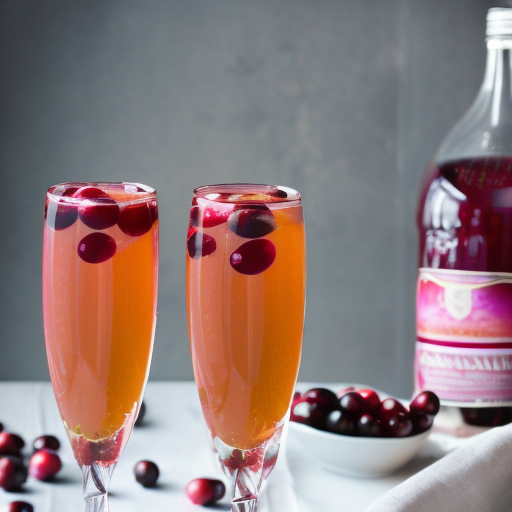 A Cranberry Mimosa is a delicious combination of cranberry juice and champagne. It's a great brunch or valentine's drink that everyone can enjoy.
It's also extremely easy to make, requiring only two ingredients and a few minutes of prep time.
To make a Cranberry Mimosa, simply mix equal parts cranberry juice and champagne in a glass.
Add some fresh cranberries for garnish (optional) and enjoy!
3. Pomegranate Martini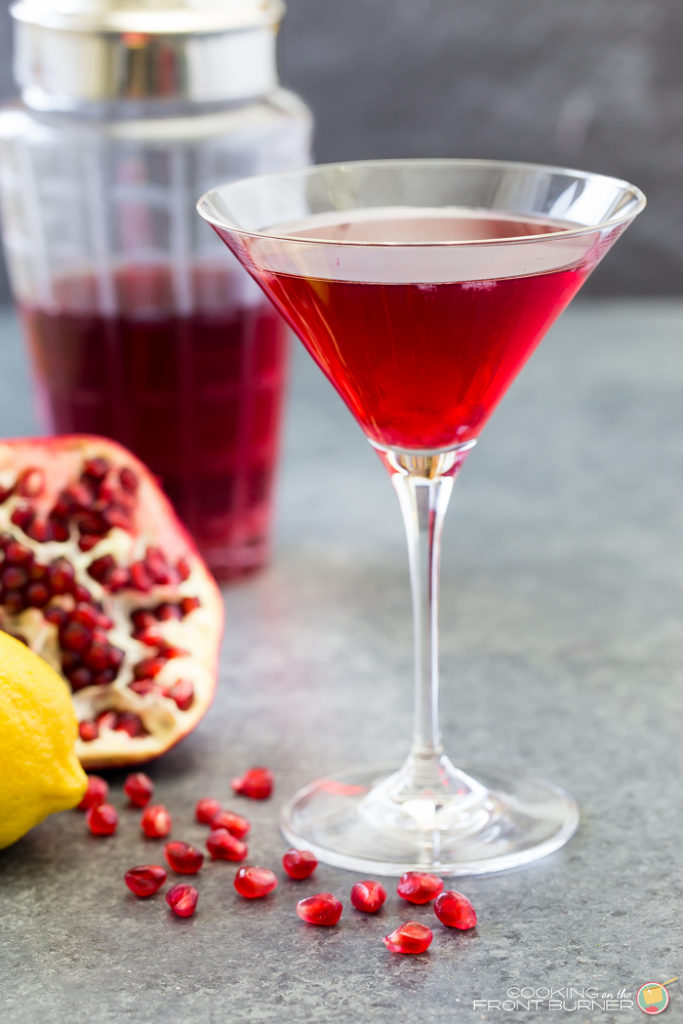 A Pomegranate Martini is a festive, easy-to-make drink with pomegranate liqueur.
It is perfect for a special occasion or to add some sparkle to any Valentine's gathering.
To make the Pomegranate Martini, combine pomegranate liqueur, vodka, and cranberry juice over ice in an iced shaker.
Shake vigorously for 15-20 seconds until the mixture is chilled and frothy.
Strain the mixture into a martini glass and garnish with a slice of lime. Enjoy! Cheers! 🍸🥂
4. White Russian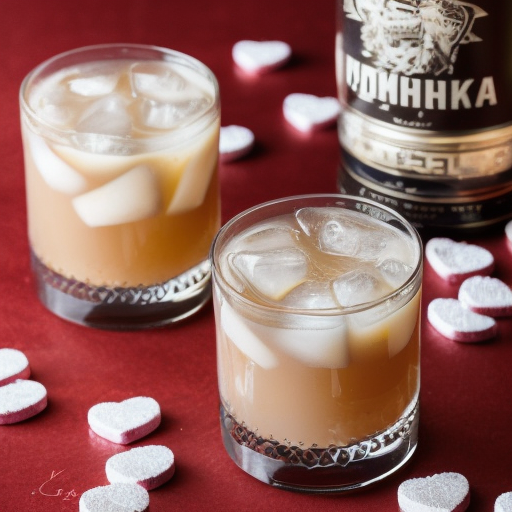 A White Russian is a classic cocktail perfect for any romantic evening.
This easy-to-make drink is made with just three simple ingredients: vodka, coffee liqueur, and cream.
To make the perfect White Russian, start by pouring two ounces of vodka into a rocks glass filled with ice.
Add one ounce of coffee liqueur and two ounces of heavy cream to the glass and stir until combined.
Garnish with an optional maraschino cherry or orange peel for extra flavor.
Flavored White Russian Recipe
For an extra special twist on the classic White Russian, try using flavored vodkas such as vanilla or raspberry to add unique sweetness to your drink.
Or if you like your drinks on the sweeter side, you can use flavored liqueurs like Bailey's Irish Cream or Kahlúa Hazelnut to give your White Russian a nutty flavor. For an even more flavorful kick, add in some fresh mint leaves or muddled fruit such as raspberries or strawberries when stirring!
If you'd prefer something a bit stronger than a classic White Russian, feel free to switch out the vodka for whiskey and replace the coffee liqueur with any other sweet alcoholic beverage such as amaretto or Frangelico.
Adding in homemade simple syrups can also help to enhance the flavor of your drink – try adding a tablespoon of honey syrup or agave nectar for added sweetness and complexity!
5. Chocolate Martini
A Chocolate Martini is an indulgent treat for your special someone on Valentine's Day. Made with your favorite vodka, Baileys Irish Cream, and Godiva Chocolate Liqueur, this martini is sure to be a hit.
To create the classic Chocolate Martini, start by adding two ounces of vodka, one ounce of crème de cacao, a half ounce of cream and a tablespoon of chocolate syrup into a shaker filled with ice cubes.
Shake the ingredients vigorously for about 10 seconds before straining them into a chilled martini glass.
For extra sweetness, use Godiva Dark Chocolate Liqueur instead of crème de cacao or add in some vanilla syrup.
For an extra special twist, try using flavored vodkas such as Butterscotch or Salted Caramel to give your drink a unique flavor.
You can also make your Chocolate Martinis boozier by adding one part Bailey's Irish Cream or Kahlua Hazelnut Liqueur. If you want to make your drink even richer, try adding half an ounce of Frangelico or Amaretto to give it an extra nutty flavor.
To garnish your Chocolate Martini, try adding a few mini marshmallows or some crushed chocolate pieces on top.
Or if you'd prefer something more elegant, why not dip the rim of your martini glass in melted chocolate and then dip it in crushed nuts for added texture?
You can also use edible glitter for an extra sparkly touch! Whatever garnish you choose, enjoy sipping on this decadent treat all night long!
Make it even better by topping it off with some chocolate shavings! Enjoy this delicious chocolate cocktail any time of year! Cheers! 🍸 🍫 🥂💝
6. Red Wine Sangria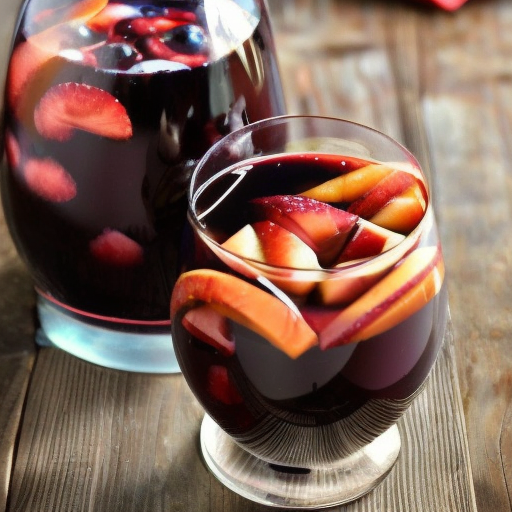 A Red Wine Sangria is a mix of red wine with fruit and spices for a refreshing drink. It's a great choice for any occasion and adds a bit of sweetness to a dinner party or gathering.
This is one of our favorite and easy valentines day alcoholic drinks since you can make a large batch!
To make the perfect Red Wine Sangria, you'll need:
1 bottle of red wine,
¼ cup sugar (or to taste),
½ cup brandy,
2 tablespoons orange liqueur (optional),
2 oranges cut into wedges,
1 lemon cut into wedges,
2 apples cut into wedges,
1 cup of orange juice,
½ cup of pineapple juice (optional),
And a few sprigs of fresh mint.
7. Mojito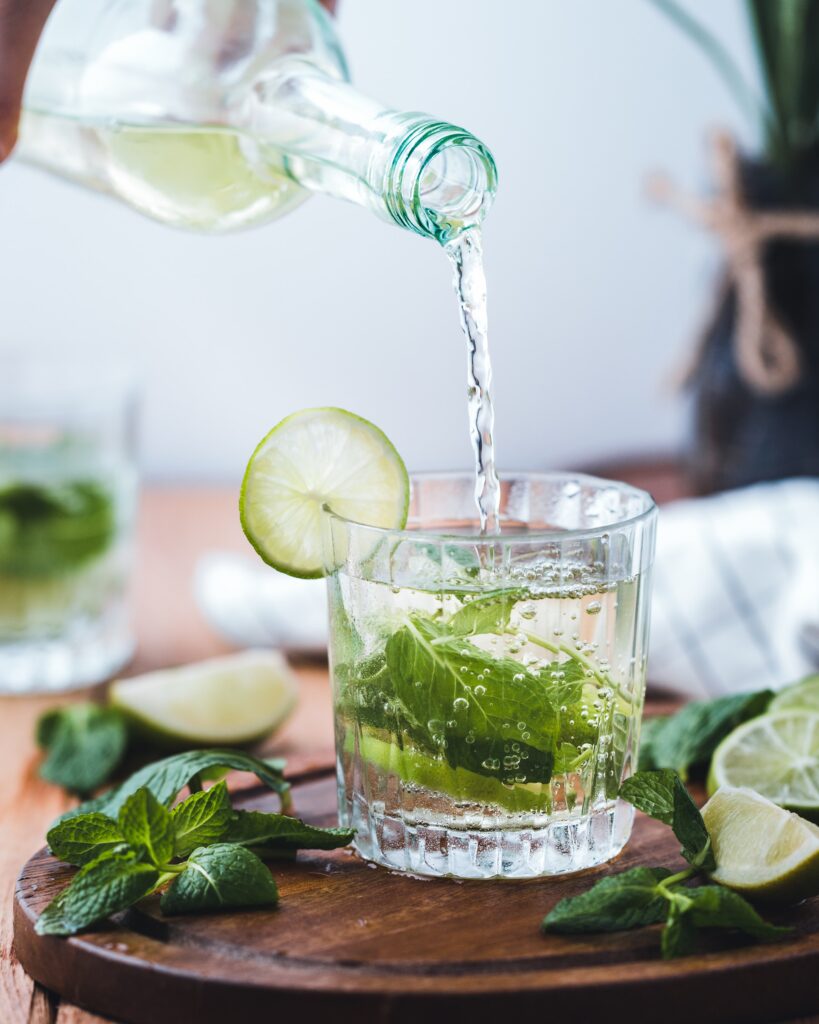 A Mojito is a simple yet sophisticated rum cocktail that looks great in any glassware.
It consists of white rum, mint leaves, lime juice, and sugar.
It is refreshing, not too boozy, and easy to make at home.
Simply muddle the mint leaves and lime in a glass with lots of ice, add the rum and some soda water or tonic if you like, and top it off with a wedge of lime. Enjoy!
8. Champagne Punch
A Champagne Punch combines champagne with other juices or spirits to create this easy punch. It is a great option for any special occasion and a fantastic way to set your guests up for the perfect evening.
Need Valentine's day pitcher cocktails? Why not try out this easy yet sophisticated recipe for a group of people?
This recipe can be tailored to suit everyone's tastes, making it the ideal choice for any gathering!
– 1 bottle of champagne (or sparkling wine)
– ¾ cup of orange juice
– ¼ cup of pineapple juice
– ¼ cup of cranberry juice
– ½ cup of vodka (optional)
– Fruit slices for garnish (strawberries, oranges, limes, etc.)
This easy Champagne Punch recipe is delicious and surprisingly easy to make. It's perfect for any special occasion, including Valentine's Day, since it can be easily customized to suit different tastes.
Begin by pouring all the juices into a large pitcher. Add the vodka if desired and stir to combine. Then slowly pour in the champagne and gently stir. Serve over ice in tall glasses and garnish with your favorite fruit slices.
The combination of different juices adds unique flavors and vibrancy to the punch, while the bubbly champagne adds an extra level of sophistication and fun.
Such an easy valentines day cocktail!
9. Gin Fizz
Gin Fizz is an easy-to-make alcoholic drink that is perfect for a Valentine's Day celebration. This drink consists of four main ingredients: gin, lemon juice, simple syrup and soda water, with egg white as an optional ingredient.
To begin making this drink, fill a highball or collins glass with ice cubes.
Pour in two ounces of gin, one ounce of fresh lemon juice, one ounce of simple syrup, and one to two ounces of soda water.
If desired, you can add a few drops of egg white to make the drink more frothy and creamy.
Give the mixture a good stir before serving it in the glass garnished with a lemon wedge on the side.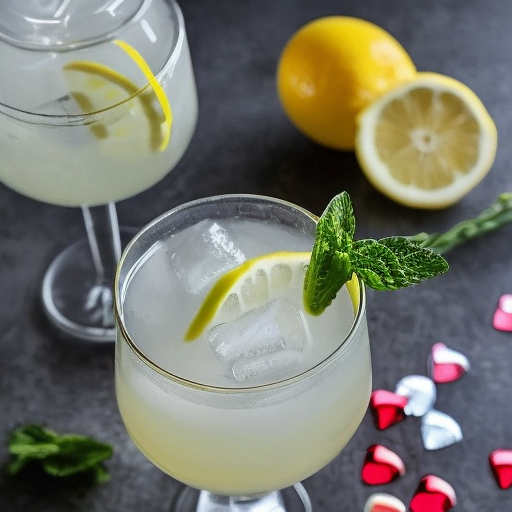 To make this easy-to-make fizzy cocktail truly special for your Valentine's Day celebration, you can use different types of flavored gins like lavender or orange.
Alternatively, you can switch up the type of citrus fruit used for flavoring the drink by using other juices, such as lime or grapefruit juice, instead of lemon juice.
You can also experiment with different types of syrups, such as rosemary-infused simple syrup or jasmine-infused simple syrup to give your Gin Fizz an extra unique flavor profile.
gin fizz : valentine day drinks non alcoholic
Furthermore, if you want to keep things non-alcoholic for a mocktail version, omit the gin and replace it with sparkling water for a delightful mocktail version that everyone will enjoy!
We have more non-alcoholic alcohol drink ideas here!
10. Whiskey Sour
A Whiskey Sour is a classic cocktail made with whiskey, freshly squeezed lemon juice, and sugar syrup. Making this easy cocktail is a great way to show your loved one your mixology skills on Valentine's Day.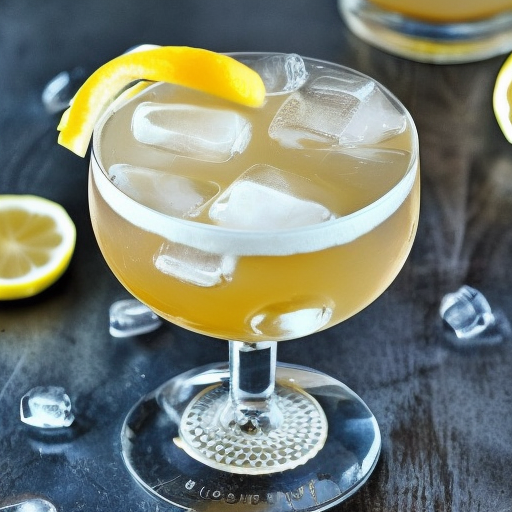 To make a Whiskey Sour, you will need the following ingredients:
2 ounces (60ml) of whiskey,
3/4 ounce (20ml) freshly squeezed lemon juice,
1/2 ounce (15ml) of simple syrup or sugar syrup.
You can also add an optional egg white for a richer texture and foamier topping.
Begin by adding all your ingredients into a shaker filled with ice cubes.
Shake vigorously for around 10-15 seconds until the shaker becomes cold to the touch.
Pour the mixture into a rocks glass or an Old-Fashioned glass filled with fresh ice cubes.
Finish off with a maraschino cherry or two if desired.
This easy yet sophisticated cocktail has been enjoyed since the mid-1800s, so you can be sure that it will impress your special someone this Valentine's Day!
RECAP: Easy valentine's Day Alcoholic drinks
From the easy-to-make Whiskey Sour to the more sophisticated Champagne Punch, these 10 easy Valentine's Day alcoholic drinks will impress your special someone.
Whether you're looking for a simple drink or something with an extra level of sophistication and complexity, there is something on this list that will cater to your needs.
So why not take advantage of these recipes and surprise your significant other this Valentine's day? Cheers!
Other Recipes to try: