When it comes to what wine goes with ham for Easter celebrations, there is no one-size-fits-all answer. Depending on the type of ham you're serving and the flavors in your main dish, different types of wines can pair perfectly. So if you're looking to impress your guests this Easter, read on to learn our top 3 delicious ham & wine pairings that will wow them!
Table of Contents
Understanding the Basics of Food and Wine Pairing
First, before jumping into what wine goes with ham – let's start by understanding the basics of food and wine pairing. Generally speaking, when pairing foods with wine, there are two things to keep in mind: complementing and contrasting.
Complementing means a wine should have similar fruit flavors as the food (e.g., sweet and fruity wines pair well with sweet dishes, while dryer and spicier wines go well with savory ones).
While contrasting means looking for opposites (e.g., a full-bodied red wine can help cut through the richness of fatty foods).
With that in mind, here are our top 3 delicious ham & wine pairings to try this Easter!
3 Mouthwatering Ham & Wine Pairings
If you're looking for delicious ham with a distinct flavor, look no further than the three major production methods of salting (dry-curing), wet-curing, and smoking. But if it's both unique tastes and texture that you're after, try combining these processes to create your very own specialty!
To get started in finding the perfect wine match for your taste buds – we've broken down these hams by their flavors so all can enjoy an amazing culinary experience. Keep scrolling for what wine goes with ham!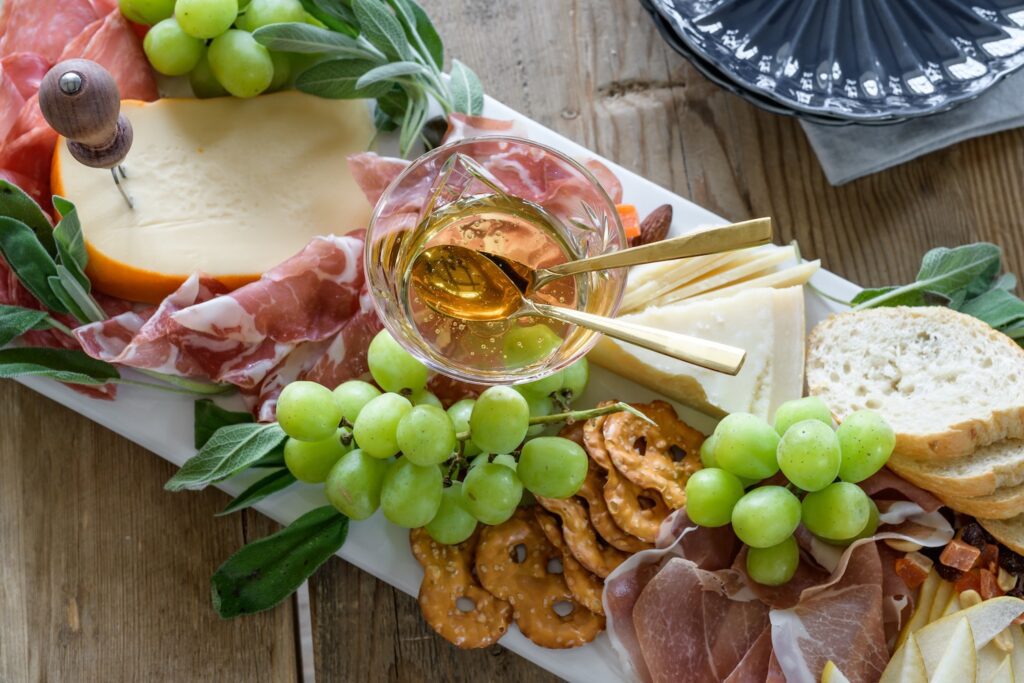 1 – Prosciutto with a Sparkling White Wine
Prosciutto is a type of Italian ham, usually served uncooked or drizzled with olive oil. It pairs best with sparkling white wines such as Prosecco or Moscato d'Asti. The bubbles help to freshen up the fatty flavors of the dish, making it perfect for an appetizer or snack before the main course.
Wine Suggestions:
Other Dry-Cured, Aged Ham styles include –
Bayonne Ham
Serrano Ham
Jamón Ibérico
Speck
2 – Glazed Baked Ham with a Sweet Riesling or White Zinfandel
Glazed hams are usually served with a sweet glaze, such as honey or maple syrup. These types of ham pair well with sweeter white wines, such as Riesling or White Zinfandel. The sweetness of the wine helps to balance out the sweetness of the glaze and bring out the flavors of the dish.
Wine Suggestions:
Other Sweet and Salty Ham styles include –
Canadian Bacon
Honey Baked Ham
Mortadella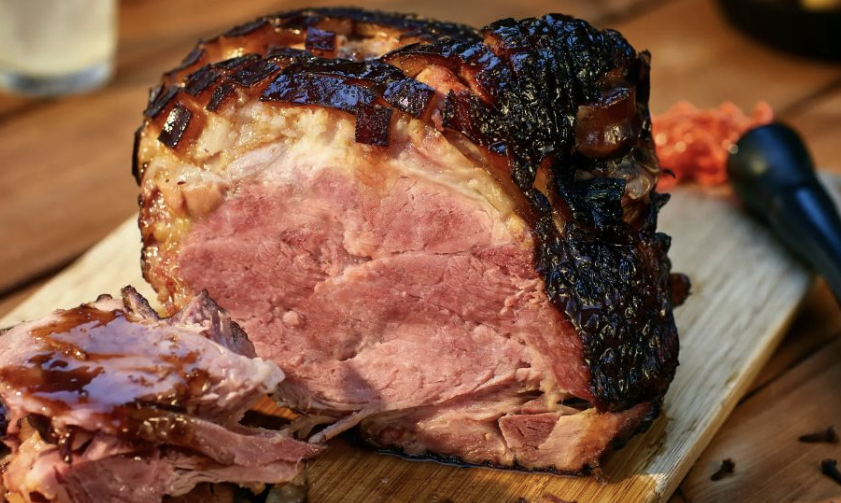 3 – Smoked Ham With A medium-bodied Red
Smoked hams can have a range of flavors from smoky to salty and even sweet. They work best when paired with a medium-bodied fruity red with moderate acidity. The boldness of these wines helps to bring out the smoky flavors of the dish.
Wine Suggestions:
Other Savory and Smoky Ham styles include –
Black Forest Ham
Country-Cured non-glazed Ham
Smoked Ham Hocks for Soup
Mortadella
Spam
Dry white wines you may also enjoy
If you are serving a lighter meal with vegetables such as asparagus, soups, and salads with a creamy sauce – you may enjoy adding a Sauvignon Blanc to your menu.
Sauvignon Blanc Wine Suggestions:
Recap – What Wine goes with ham
No matter what type of ham you're serving this Easter, using the right wine to pair it with can take your meal to the next level. With these 3 delicious ham & wine pairings, you'll be sure to impress your guests! Happy Easter!
Don't forget to ORDER ONLINE at Top Shelf (Effingham, IL) and pick it up at our convenient drive-thru!