Nestled in the heart of Illinois, the Tuscan Hills Winery – Effingham, Illinois offers breathtaking views and a unique tasting experience that will keep you coming back for more. This local Illinois winery is one of Effingham's most popular attractions, providing guests with everything they need to truly enjoy all the beauty that the area has to offer. Whether you prefer reds or whites, whites or roses – everyone is sure to find something tasty among their extensive selection of award-winning wines. Plus, there's plenty of other activities available onsite including guided tours, live music events and educational seminars that explore wine making and viticulture. You'll feel like you've left Illinois and stepped into another world at Tuscan Hills Winery.
After reading this article, schedule a trip to come visit for an unforgettable day full of adventure all set against a stunning backdrop of Southwest Illinois' quaint rural countryside.
In this guide, we'll explore what makes Tuscan Hills Winery so special and give you all the tips you need for making your visit an unforgettable one!
Table of Contents
Visiting Tuscan Hills Winery – Effingham, ILlinois
Tuscan Hills Winery : Address: 2200 Historic Hills Drive Effingham, IL, 62401
Tuscan Hills Winery is an inviting place to gather and relax with friends, old or new. Since 2011, the winery has become a popular destination in Effingham for events such as weddings and reunions – not to mention weekly musical performances!
Owners Wes & Wanda Pitcher invite you to come be their guest; but they would love it if you left as one of their good friends.
With tastefully crafted wines available by the bottle straight from their wine cellar plus a full bar, sangrias and slushies along with various food offerings make this spot perfect no matter your style- whether its vino or something else that tickles your fancy.
"This is one of my favorite wineries. We come here every time we are in Effingham. I always bring home a few bottles. You can't go wrong going here."

Penny – Port Huron, MI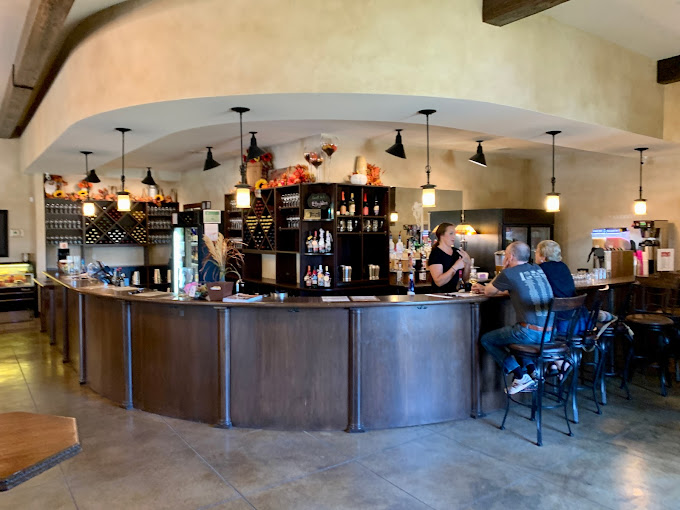 Exploring the Vineyards and Tasting Room
Looking for a delightful wine tasting experience? Look no further than our vineyard in Effingham.
Our restaurant is simply gorgeous, and our wine will not disappoint.
During a wine tasting, you'll get to try five different options, and we may even throw in an extra holiday taste for good measure. For just $6, it's a great deal.
We also offer the option to bring your own food, but our flatbreads are a tasty choice. We highly recommend stopping by to enjoy affordable wine and fantastic atmosphere.
Oh and if you want to bring your pooch – go ahead! Tuscan Hills Winery is a dog friendly place – great for travelers.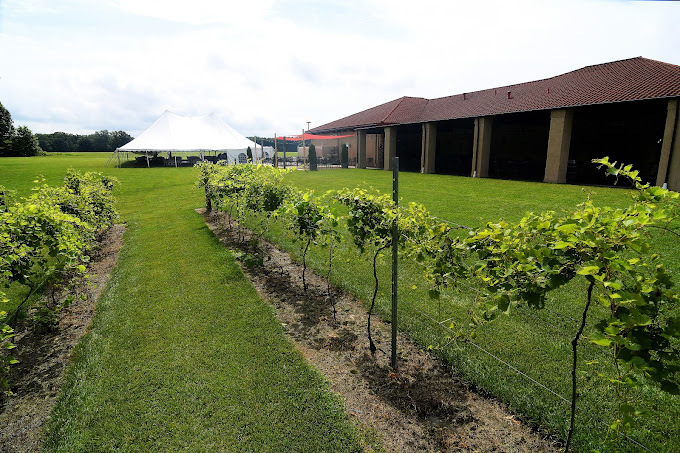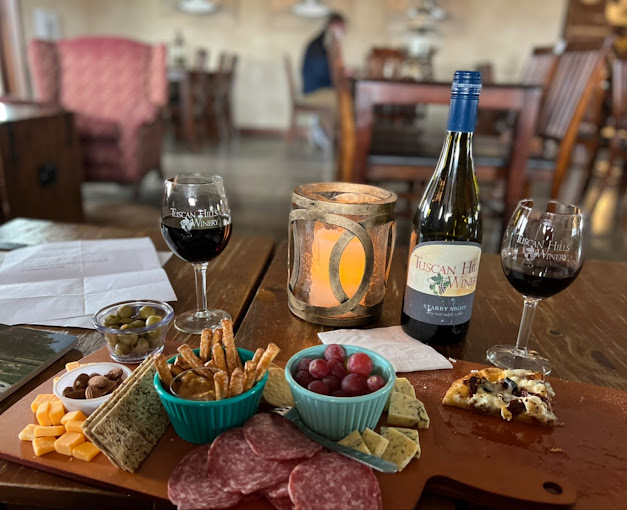 "I wish we had more time to spend at this winery! We were just passing through on our way to Ohio and my husband wanted to stop. I'm so glad we did! It was only a couple of miles from the highway and had plenty of signs directing us to the winery. The building and grounds were very clean and pleasing to the eye. The server was very friendly and attentive. And all 5 if the wines we tried were delicious. I have NEVER had that happen before at a tasting. I wish we had time to try something from their menu, because it looked wonderful too. If you're in the area, I recommend you stop in."

champm0m – Bowling Green, MO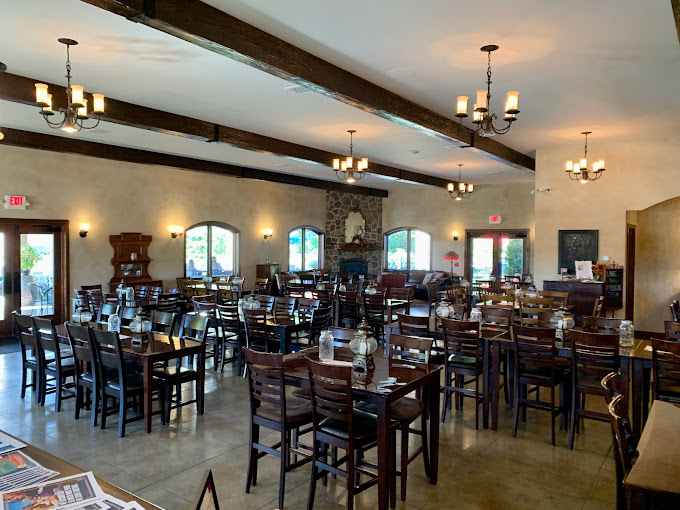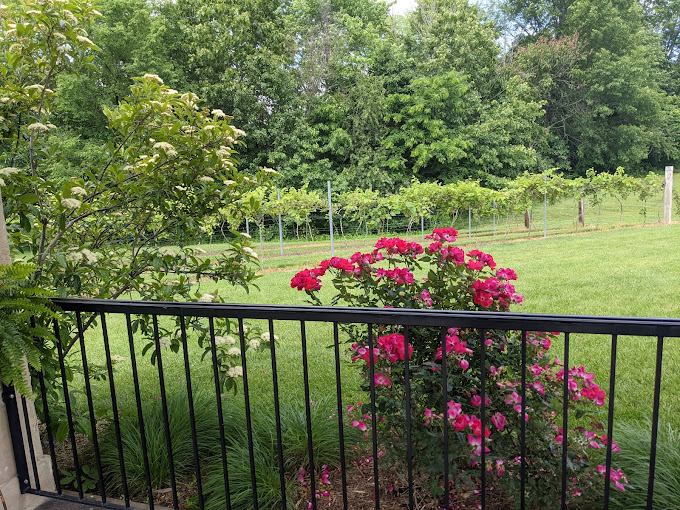 Food Options to Compliment Your Wine-Tasting Experience
If you're planning a trip to Tuscan Hills Winery, you're in for a treat. Not only will you get to sample their fantastic wines, but you'll also have some delicious food options to round out your experience.
Many visitors often come solely for the wine tasting and miss out on the other offerings of the winery. Tuscan Hills Winery not only offers an array of local varietals and Italian-style blends but also delicious food options to complement the wine-tasting experience
When it comes to wine tasting, finding the perfect food to pair with your choice of wine can be a bit overwhelming. Luckily, Tuscan Hills Winery has you covered with its mouth-watering food options designed to compliment your wine perfectly.
Their Italian bread, served with mozzarella, parmesan and asiago cheeses, olive oil, garlic and Italian seasonings, is a great starter.
If you're in the mood for something a little heartier, try the sweet and spicy chicken flatbread paired with the Vignoles (resembles Riesling). A medium-sweet wine displaying a little spiciness and a big fresh fruity flavor; pineapple, crisp green apple, grapefruit and light spices with a hint of vanilla. ORDER TUSCAN HILLS VIGNOLES from Top Shelf here!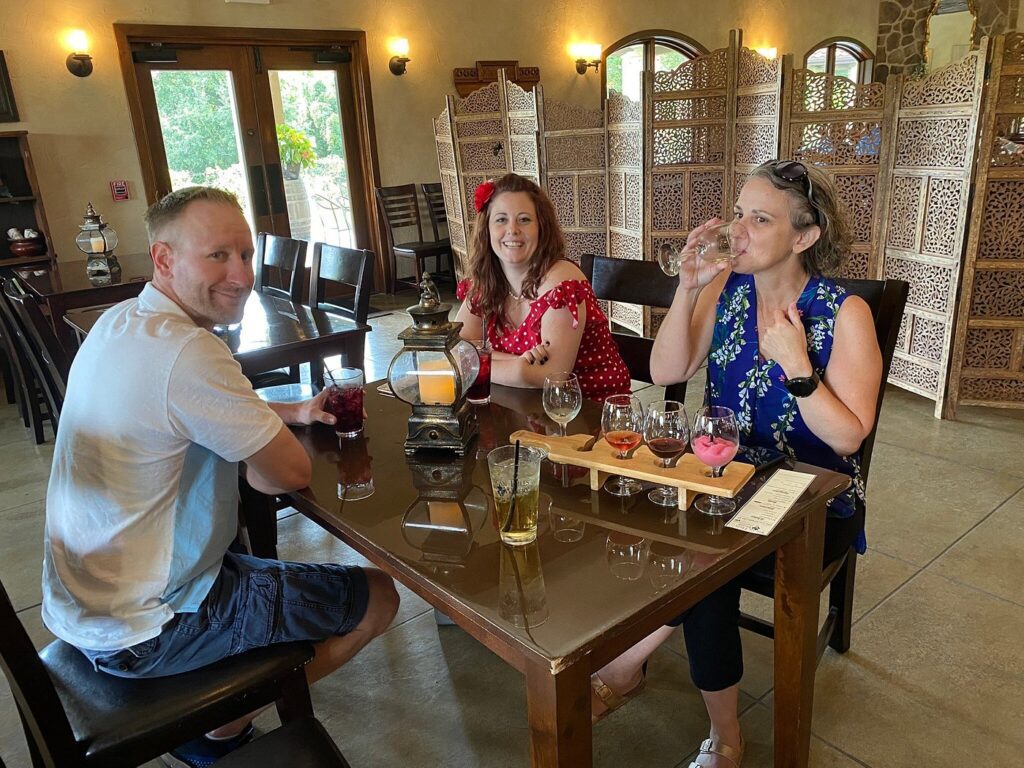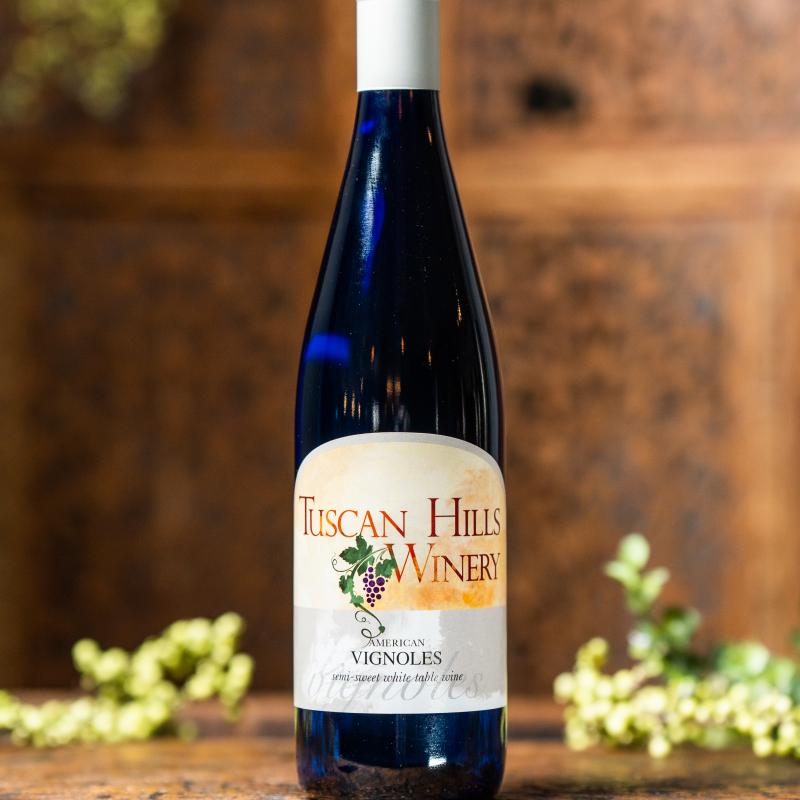 Photos: Trip Advisor and Tuscan Hills Website
If you're sipping on Andiamo!, which resembles Sauvignon Blanc, we suggest trying one of their delectable charcuterie boards, featuring a variety of soft and crunchy textures, sweet and savory flavors, and delectable options like Calabrese salami, brie wedge, and caprese skewers with balsamic glaze. Not only will these charcuterie boards satisfy your taste buds, but they will also enhance your wine tasting experience. So, take a sip, indulge in some delicious bites, and savor the flavors. Andiamo, indeed! ORDER TUSCAN HILLS ANDIAMO from Top Shelf here!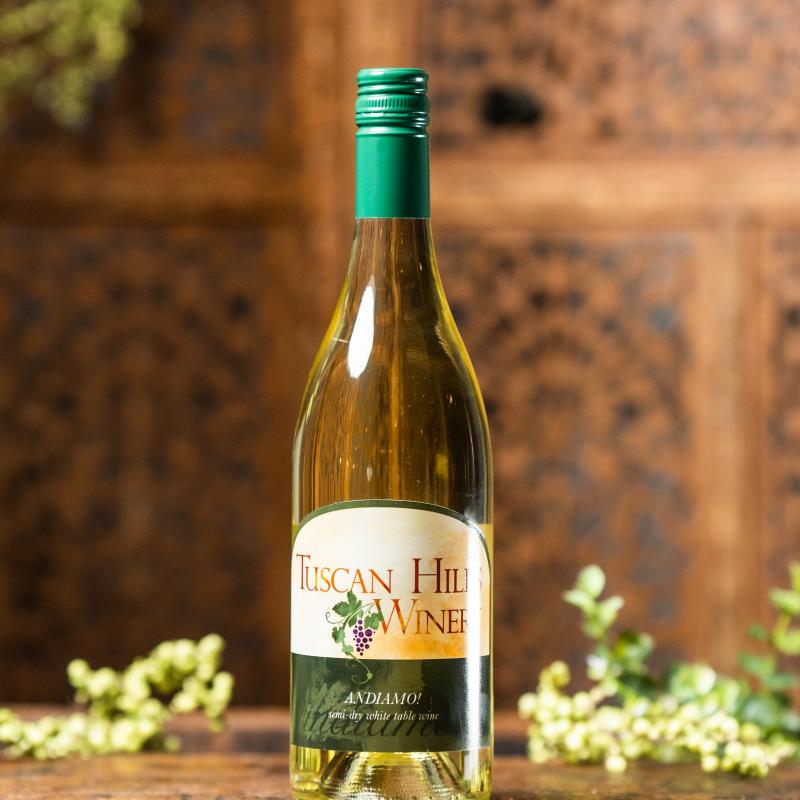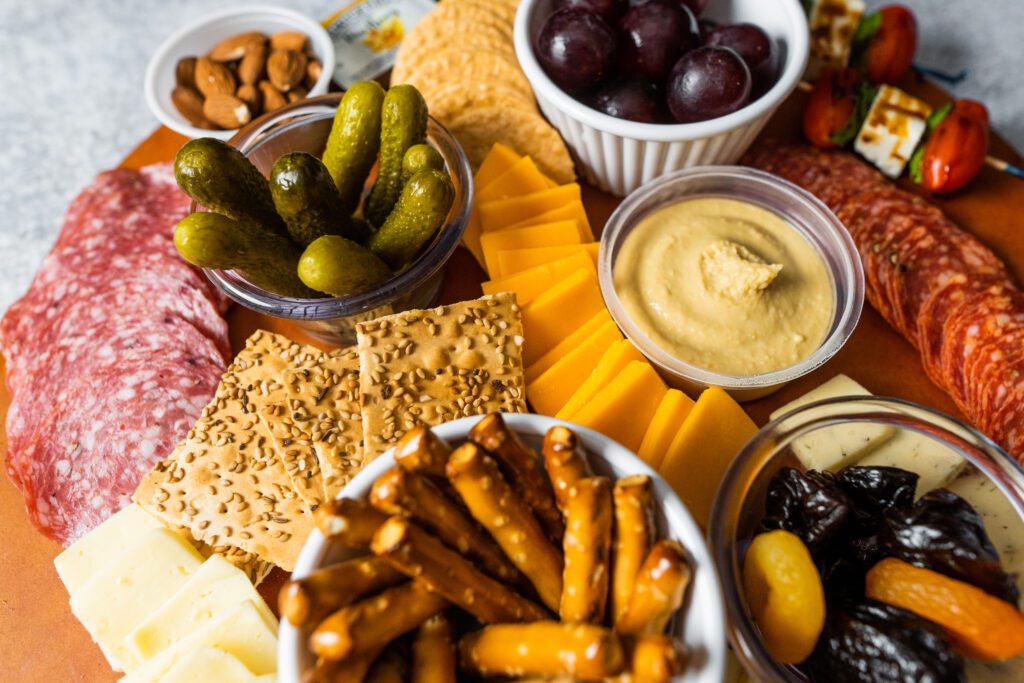 Photos: Tuscan Hills Website
pizzas on the menu
12″ Cheese Pizza – $10.00
thin crust mozzarella, asiago cheeses, garlic and Italian seasonings
12″ Veggie Lovers Pizza – $12.00
thin crust, fire roasted onions, red & green peppers, mozarella & asiago cheeses, garlic and Italian seasonings
12″ Pepperoni Pizza – $14.00
thin crust pepperoni, mozzarella, parmesan cheeses, garlic and Italian Seasonings
12″ Sausage Pizza – $14.00
thin crust sausage, mozzarella, parmesan cheeses, garlic and Italian seasonings
12″ Pepperoni/Sausage Pizza – $15.00
thin crust sausage, pepperoni, mozzarella cheese, garlic and Italian seasonings
12″ Supreme Pizza – $15.00
thin crust sausage, pepperoni, fire roasted onions, red & green peppers, mozzarella cheese, garlic and Italian seasonings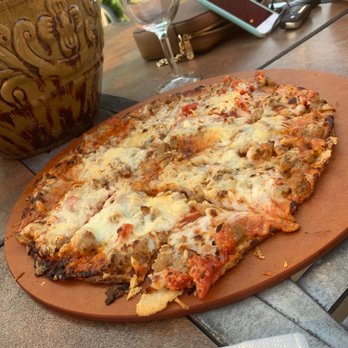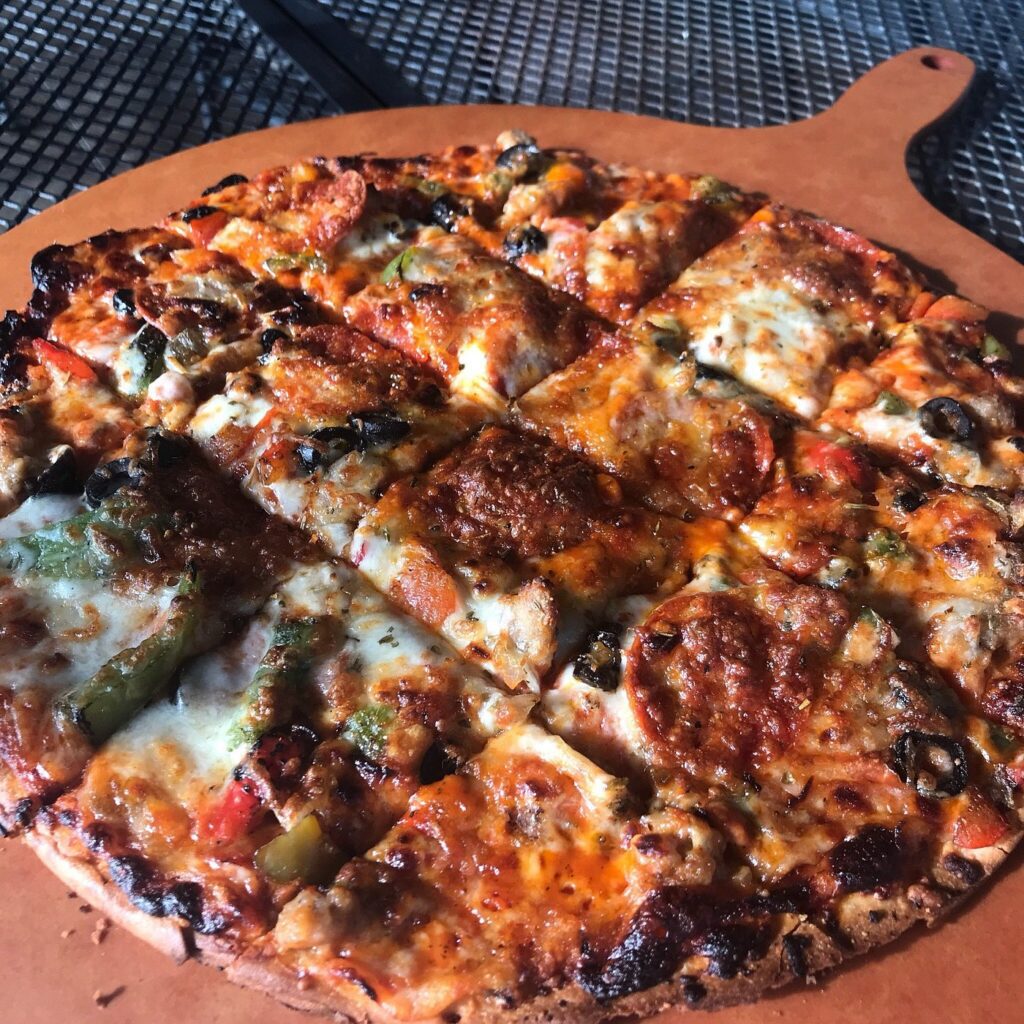 Enjoying Local Varietals and Classic Italian-style Blends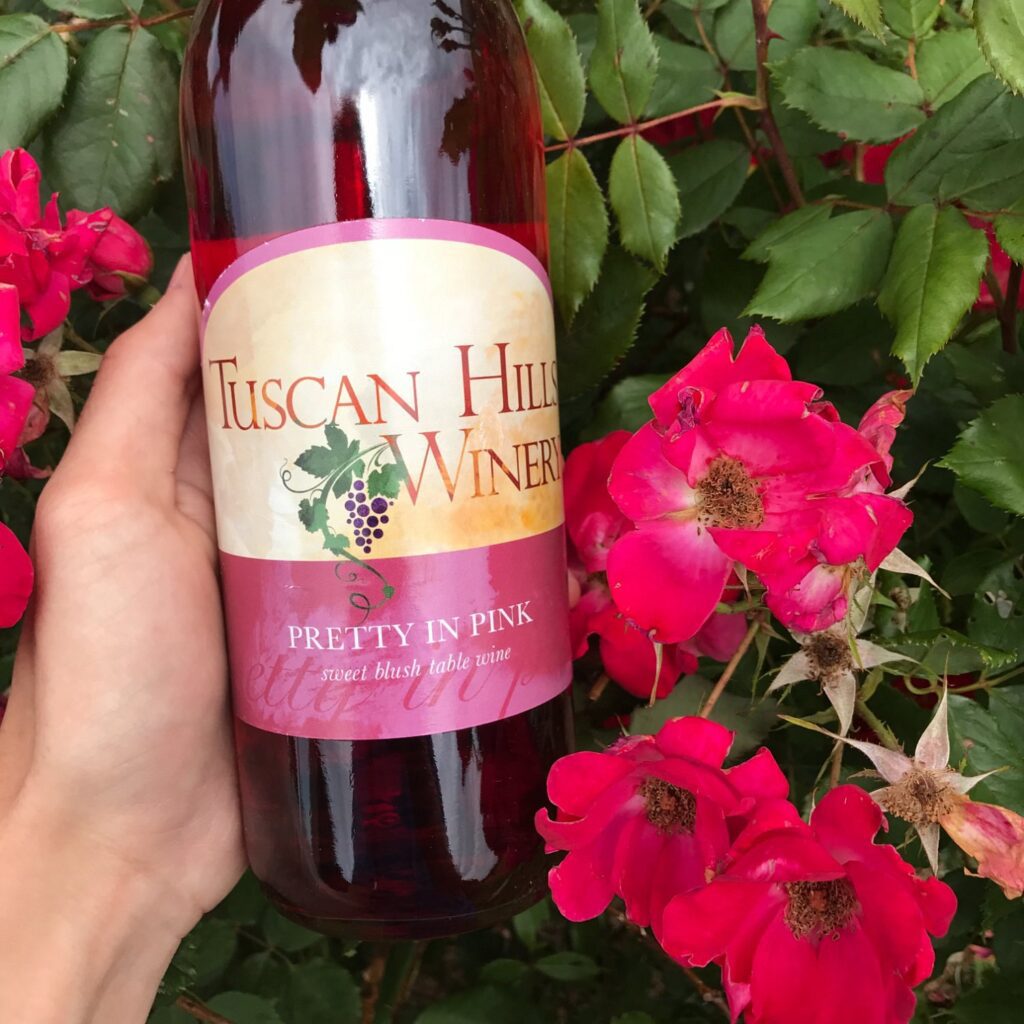 Pretty in Pink
(resembles White Zinfandel)
On of their best-selling wines! A full-bodied, sweet blush wine with a bold strawberry flavor. Enjoy the aromas of Concord and Pink Catawba grapes, plus cherries, roses and a candied-fruit medley. A great dessert wine or party wine all on its own.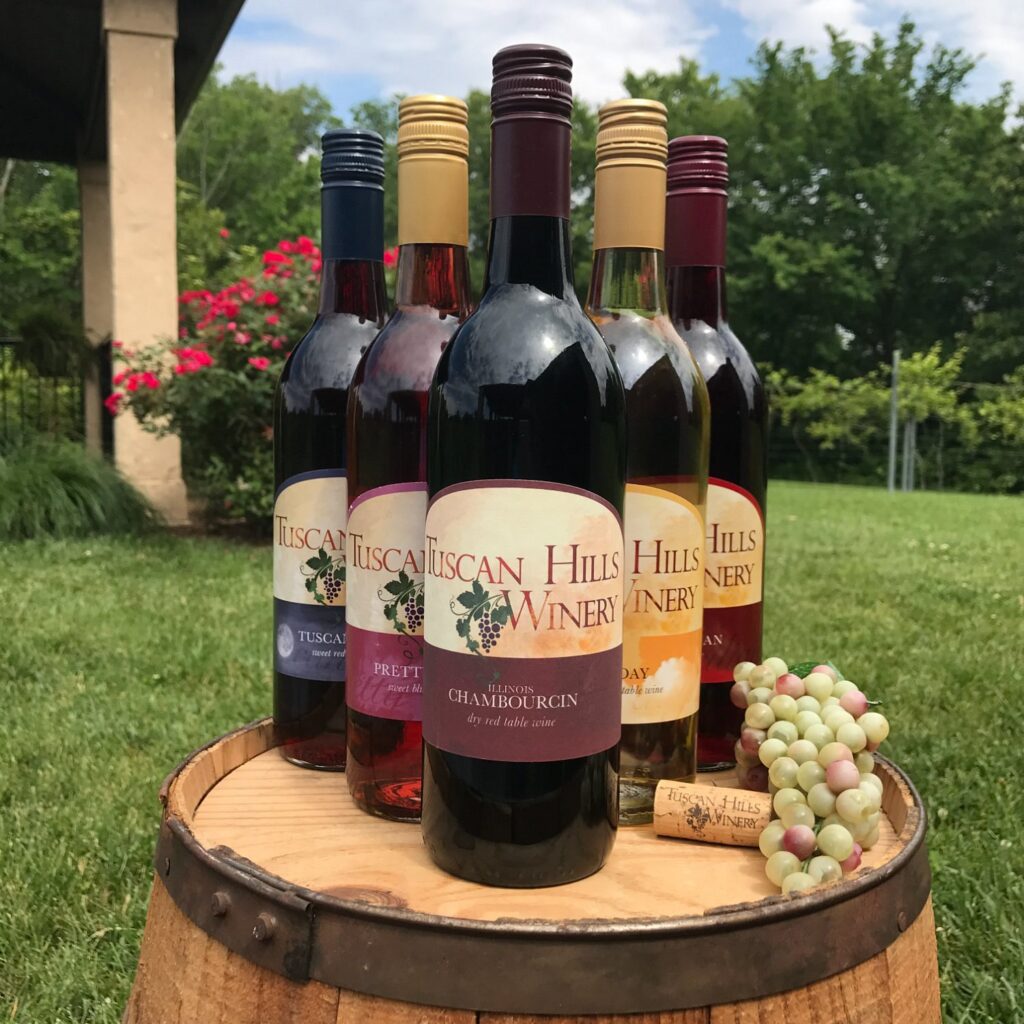 Chambourcin
(resembles Pinot Noir)
A complex dry red wine with black pepper, raspberry, strawberry, cherry, roses, cedar and vanilla aromas. Medium-bodied, slightly crisp, and a lingering finish.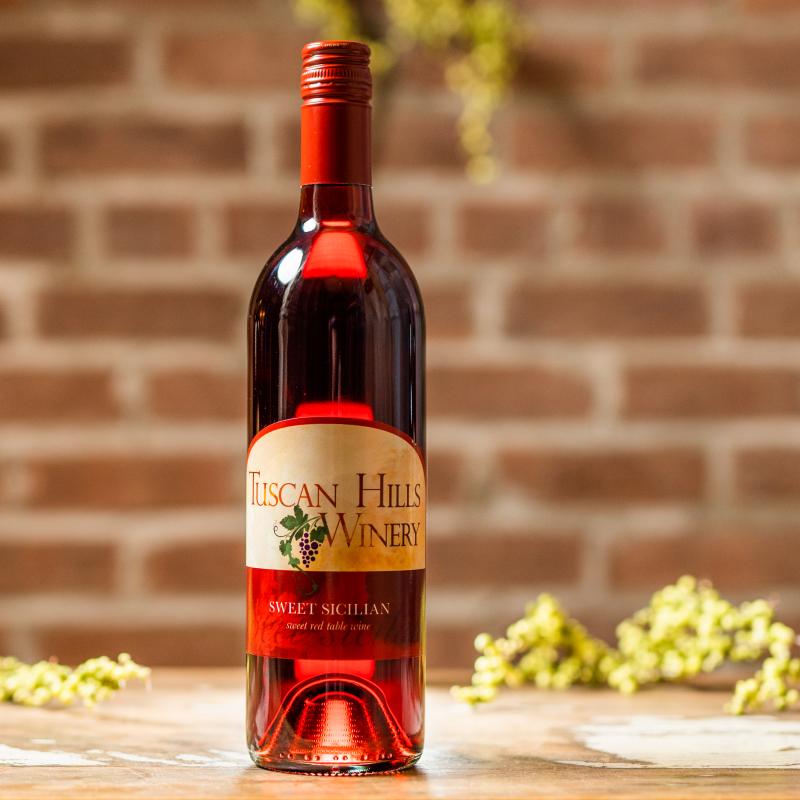 Sweet Sicilian
(resembles Red Blend)
A smooth, medium-sweet red wine with plum, red berry, and black cherry aromas. Medium-full bodied, with a warm, fruit-dominated flavor, medium-long finish
Sangria
(Peach or Raspberry) Order by the glass or by the pitcher! Also available to make at home.
Raspberry Sangria Recipe: Mix one bottle Tuscan Night sweet red table wine with one bottle sparkling raspberry spumante. Serve over ice.
Peach Sangria Recipe: Mix one bottle Tuscan Day sweet white table wine with one bottle sparkling peach spumante. Serve over ice.
Caramel Apple Sangria available September 9 – Thanksgiving weekend.
Wine Slushies
Seasonal – Flavors vary monthly. $6 a glass.
View other wines from Tuscan Hills Winery Effingham Illinois – HERE! – they ship to most U.S. states.
Entertainment and Activities at the Winery
If you're looking for some fun activities and entertainment to enjoy while you sip on some of the finest wines around, you'll definitely want to check out the events at the winery.
Every Friday, there's something new and exciting to enjoy, from lively line dancing to original music by Tim Crosby. Or if you're a fan of rock, folk, blues or acoustic grooves, you're sure to find something that you love.
And if you're feeling especially adventurous, you can even get in on a murder mystery solving experience that's sure to have you on the edge of your seat.
So grab a glass and settle in for a night of exciting entertainment at the winery! View the event schedule here.
One of the top mistakes is not allowing enough time for your visit. With so much to see and do, you'll want to make sure that you can take it all in at a leisurely pace.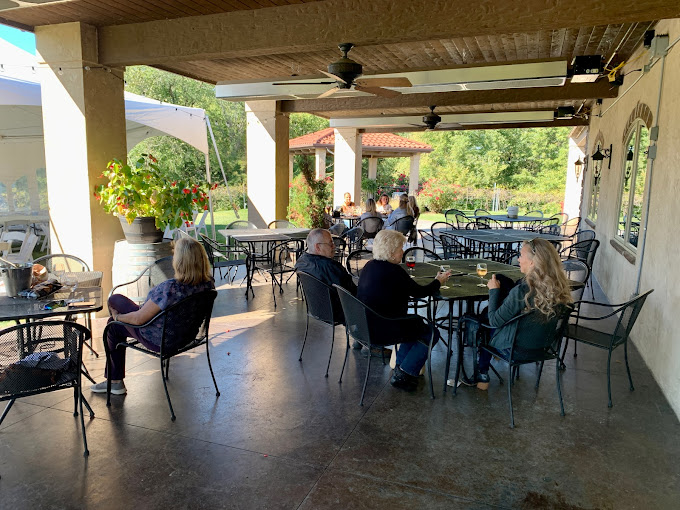 Concluding Thoughts on Visiting Tuscan Hills Winery Effingham Illinois
Visiting Tuscan Hills Winery in Effingham, IL is a unique experience that everyone should have the pleasure of enjoying. From the stunning vineyards and classic Italian-style blends to the array of food options and entertainment activities available onsite, this winery truly has something for everyone. Whether you're looking for an afternoon escape or a romantic evening out with your significant other, Tuscan Hills Winery won't disappoint! So take some time to explore all that it has to offer – we guarantee it'll be worth your while.
And to continue enjoying your favorite Tuscan Hills Wine – shop Top Shelf for their full selection!