Champagne is a classic and festive way to ring in the new year! Celebrate this New Year's Eve with these champagne cocktails that are as stylish as they are delicious. Whether you're looking for something light and refreshing or something a bit more robust, there's sure be something on the list that will fit your fancy. From a classic champagne cocktail to a beautiful cosmopolitan cocktail, these champagne cocktails will make your New Year's Eve celebration an unforgettable one.
Table of Contents
Say Cheers To A New Year With These Stylish champagne cocktails
1. Classic Champagne Cocktail
Start the new year in style with some classic drinks! To kick off the evening, whip up a Champagne cocktail for your guests.
A few dashes of aromatic bitters added to a sugar cube and dropped into a beautiful bubbly glass make for an impressive start.
Don't forget to express a fresh citrus peel for that extra wow factor. There's nothing quite like the atmosphere of New Year's Eve, but this combination of flavors and aromas will transport your friends and family to true celebration status!
Ingredients
1 sugar cube
Champagne or sparkling wine, chilled
Lemon or orange twist for garnish
Directions: Soak the sugar cube in Angostura bitters and drop into a Champagne flute. Top with Champagne or a sparkling wine. Garnish with a lemon or orange twist.
2. Champagne Cosmopolitan Cocktail
It's New Year's Eve and time to celebrate! But what will you be sipping on? Make your celebration a bit more special with this champagne cocktail recipe – the perfect mix of flavor and bubbles. Combining some popular cosmopolitan flavors – cranberry, lime, vodka, and of course, champagne – you'll be ready to ring in the new year in style. Not only is this cocktail flavorful and delicious, but it looks festive, too – here's to an unforgettable night!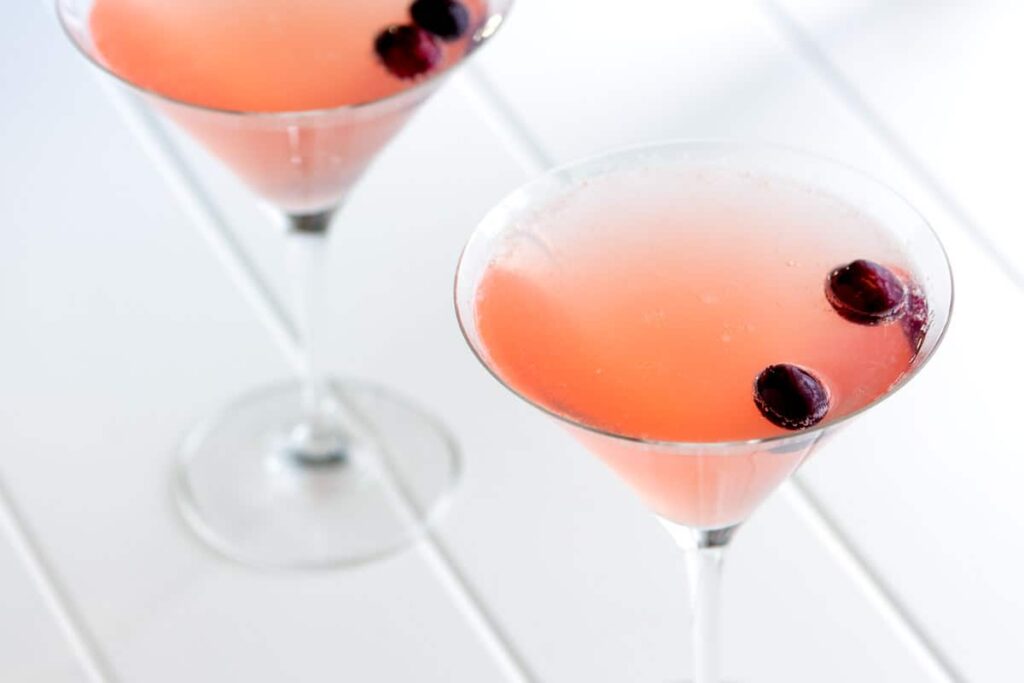 Ingredients
Directions: Combine vodka, triple sec, cranberry juice, lime juice, and ice in a cocktail shaker. Shake until very cold. Taste, and add a dash of simple syrup or agave if the mixture seems tart. Pour into a chilled martini glass, then top with champagne or sparkling wine.
Tip: If you are making for a crowd, add enough of the vodka mixture without the champagne for multiple people to a large pitcher, stir and refrigerate until cold. When you are ready to serve, divide between glasses and finish with chilled sparkling wine (or champagne).
Click here to learn more about Top Shelf in Effingham
3. Poinsettia Cocktail (Cranberry Mimosa)
Start off the new year with a bang by making a delicious Poinsettia Cocktail! It's easy to make and looks beautiful with its deep red-violet color and festive rosemary garnish.
This cocktail is citrusy and tart, made with sparkling wine and cranberry juice – perfect for ringing in the start of a brand new year!
Surprise your guests when you bring out this delightful drink; it's sure to be an instant hit at any holiday celebration.
So get creative and make your own spin on the classic Poinsettia Cocktail – it'll definitely be remembered as part of an unforgettable New Year's Eve bash!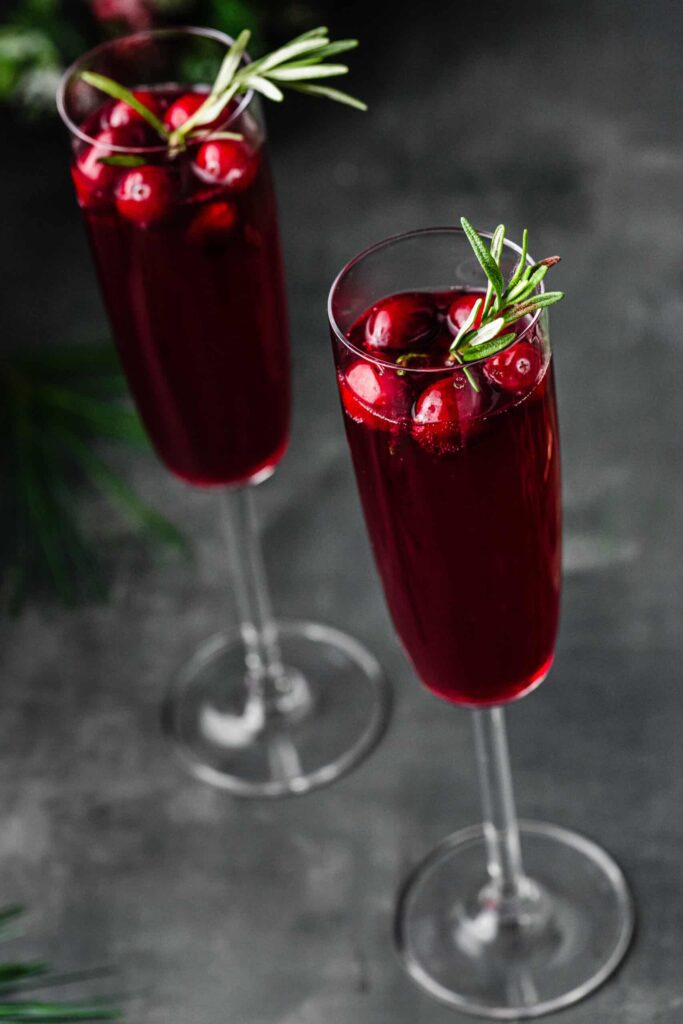 Ingredients
Sparkling wine, Prosecco or Champagne
Cranberry juice
An orange liqueur, like Cointreau or Triple Sec
Fresh cranberries and rosemary sprigs for garnish
Directions:
Start by getting your garnish ready to go: wash your cranberries and rosemary and set them aside.
Then, measure the orange liqueur and add it directly to your serving glass.
Next, measure out your cranberry juice, and pour it into the glass.
Finally, top everything off with your sparkling wine. You don't technically have to measure this out, although you can; just pour to fill up your glass about three-quarters of the way.
Add in your cranberries and rosemary sprig, and serve immediately for the best bubbles!
Tip: The best way to make this recipe for a party is to mix the cranberry juice and orange liqueur together ahead of time. Keep it in the fridge, and just measure it out into each glass. Pour over the sparkling wine at the very last minute for the best bubble experience!
Champagne Cocktails: Happy New Year!
Welcome in the New Year with style! Champagne cocktails are the perfect way to celebrate. From a classic champagne cocktail to a beautiful cosmopolitan cocktail and a festive holiday mimosa, you'll find everything you need to ring in the New Year with a bang. So raise a glass and cheers to the new year with these delicious champagne cocktails! Happy New Year!