Summer BBQs are always a blast, but why not take it up a notch this year with some festive red white and blue cocktails? These delicious cocktails will be sure to impress your guests and make for an unforgettable day. From classic favorites like the Red White & Blue Margarita to unique creations like the American Flag Sangria, we've got three refreshing recipes that will add some extra sparkle to your summer celebrations. So break out the blender and get ready for some fun!
Try these recipes at your next Memorial Day, Fourth of July, or Labor Day party and of course, pick up your ingredients from Top Shelf ahead of time.
Whether you're hosting a backyard barbecue for friends and family, or just getting together for an outdoor picnic, nothing marks the occasion like a festive libation.
Table of Contents
1. How to Make Red, White & Blue Margarita Slushies
This classic concoction is a unique spin on the traditional margarita and will be sure to wow your guests. Pick up your ingredients ahead of time from Top Shelf and you'll be ready to mix and mingle in no time!
(Recipe and photos from The Cookie Rookie)
Don't forget to RIM your glasses with salt first! (see below)
For this layered slushie, you'll need to mix three layers separately by blending all ingredients in a high-powered blender (rinsing in between layers).
Pour each layer into glasses after preparation to create distinct red, white, and blue layers.
Garnish with fresh blueberries and strawberries then serve!
how to salt a rim before pouring in your slushie mix
To finish off this red white and blue margaritas recipe you can salt the rim of the glass before pouring in your margarita slushy mix. For the perfect balance of sweetness and tequila flavor, a salted rim does wonders. All you need is lime juice and some coarse sea salt.
First, run a lime wedge around the rim of the glass. Next, gently twist the moistened rim onto a small plate piled with coarse sea salt. Voila! The lime juice allows the salt to cling perfectly to the glass creating a perfectly salted rim.
Red White and Blue Margarita Recipe
Serves 6 – adjust as needed!
RED LAYER:
BLUE LAYER
3 1/2 cups ice
1 1/2 ounce El Mayor Blanco Tequila 1 shot
1 ounce cointreau
2 ounce blue curaçao
1 ounce lime juice
WHITE LAYER
3 1/2 cups ice
1 1/2 ounce El Mayor Blanco Tequila 1 shot
1 ounce cointreau
2 ounce lime juice
1 tablespoon agave nectar or honey
Is it possible to prepare Margarita Slushies beforehand?
While you can prepare the ingredients for your Margarita Slushies in advance, blending them right before serving ensures the best result. Making the drink too far ahead of time may cause the ice to melt, which dilutes the flavor and consistency. Therefore, it's better to wait for the right moment to whip up a fresh and delightful Margarita Slushie!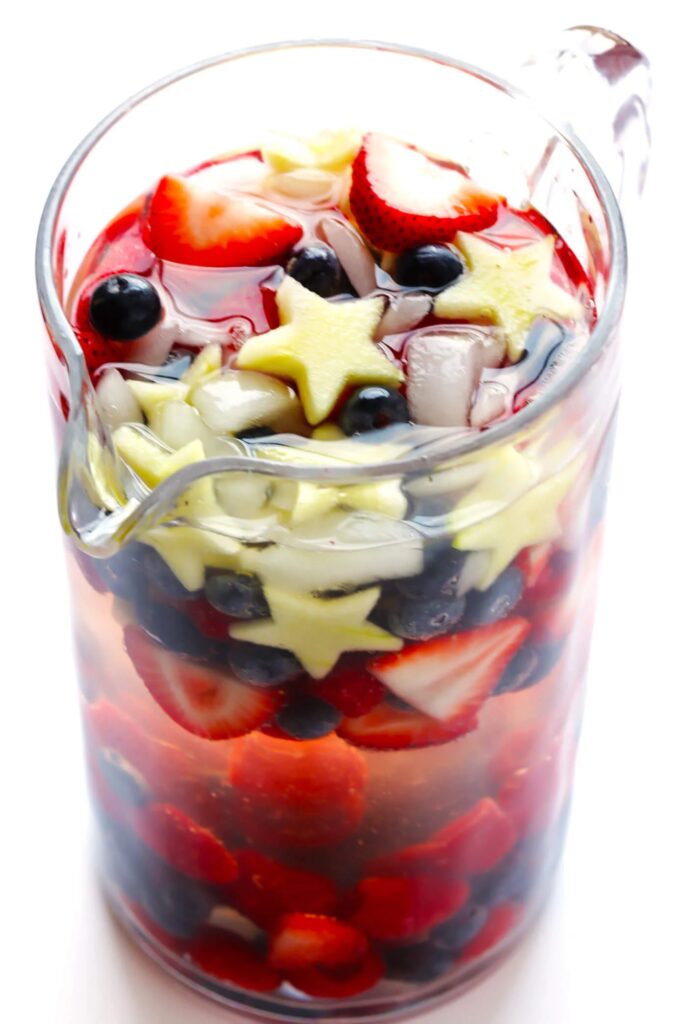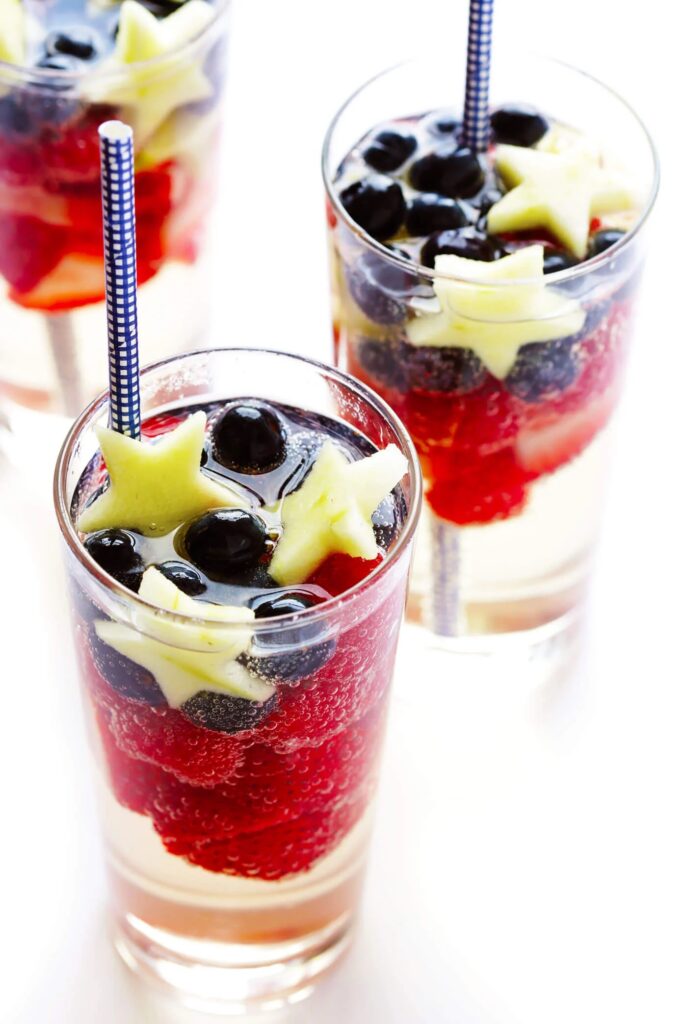 2. how to make American Flag Sangria
American Flag Sangria is perfect as an all-day sipper while grilling up burgers on the barbie! Cheers to summer entertaining!
(Recipe and Photos from Gimme Some Oven here.)
To make this red, white and blue sparkling sangria, you will need:
1 bottle of chilled White wine: Select a bottle of white wine that you enjoy the most. We recommend a more dry white wine, so that the sangria is not overly sweet, but any white wine will do. Also, no need to splurge on an expensive bottle!
1 bottle of chilled Sparkling white wine: Just before serving, add a bottle of sparkling white wine like cava or champagne to make the Sangria sparkle. This little touch gives the drink a fizzy pop that is sure to be a hit with guests and can take your hosting game to the next level. (optional)
Berries: Strawberries, raspberries, and blueberries will serve as your "red and blue". Or use watermelon, cherries, plums, or red grapes! (1 pound of strawberries and 3 cups of other)
3-4 Granny Smith Apples: Then just thinly slice some crisp apples to serve as your "white." If you have a small start cookie cutter on hand, you can cut the apple slices into star shapes. Or for an easier option, just add the apple slices straight to the sangria whole. (pears, jicama, pineapple or starfruit will also work)
1/2 cup Liqueur: Brandy is the liqueur that is most traditionally added to sangria. But you're welcome to add cognac, orange liqueur (such as Grand Marnier, Cointreau or Triple Sec), white vermouth, or whatever sounds good.
Ice: For serving.
Get your ingredients in advance from Top Shelf and you'll be ready to mix, mingle, and enjoy in no time!
Creating a delightful pitcher of sangria is easier than you might think.
8 -12 SERVINGS – Total Time 10 minutes
Mix together the base ingredients. Stir together white wine, strawberries, blueberries, raspberries and orange liqueur in a large pitcher.
Cover and refrigerate. Pop the pitcher in the refrigerator for anywhere from 1-4 hours, so that the drink can chill and all of those fruity flavors can meld. (NOTE! the longer the sangria sits the redder it becomes – for a white sangria serve immediately)
Stir in the "sparkles." Once you're ready to serve the sangria, stir in the sparkling white wine, apples and a handful of ice.
Serve! Then pour the sangria over ice, serve and enjoy!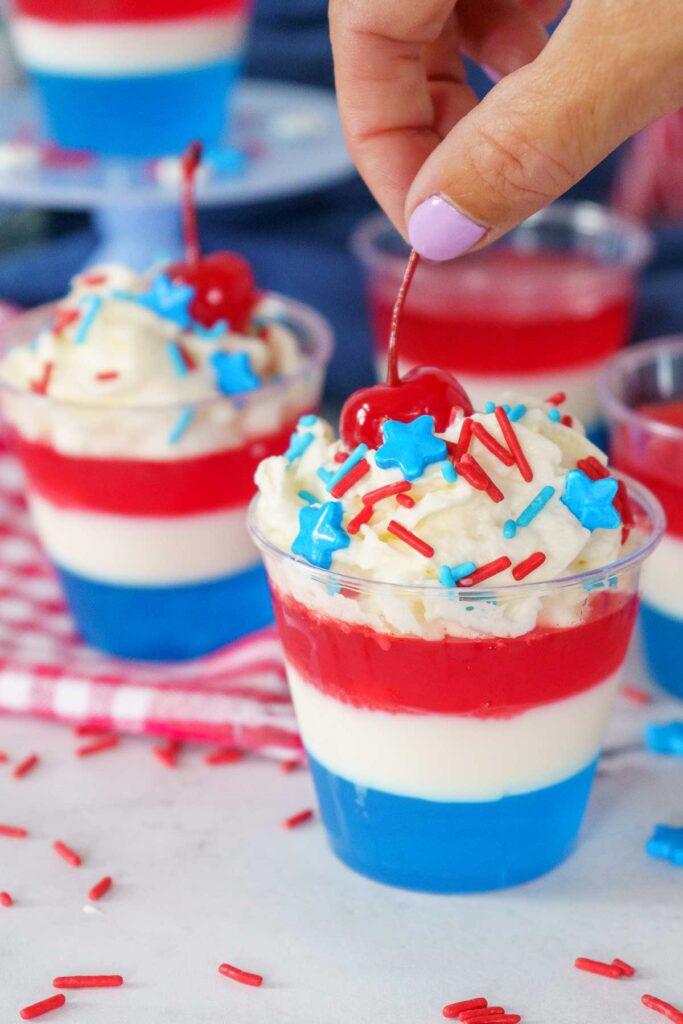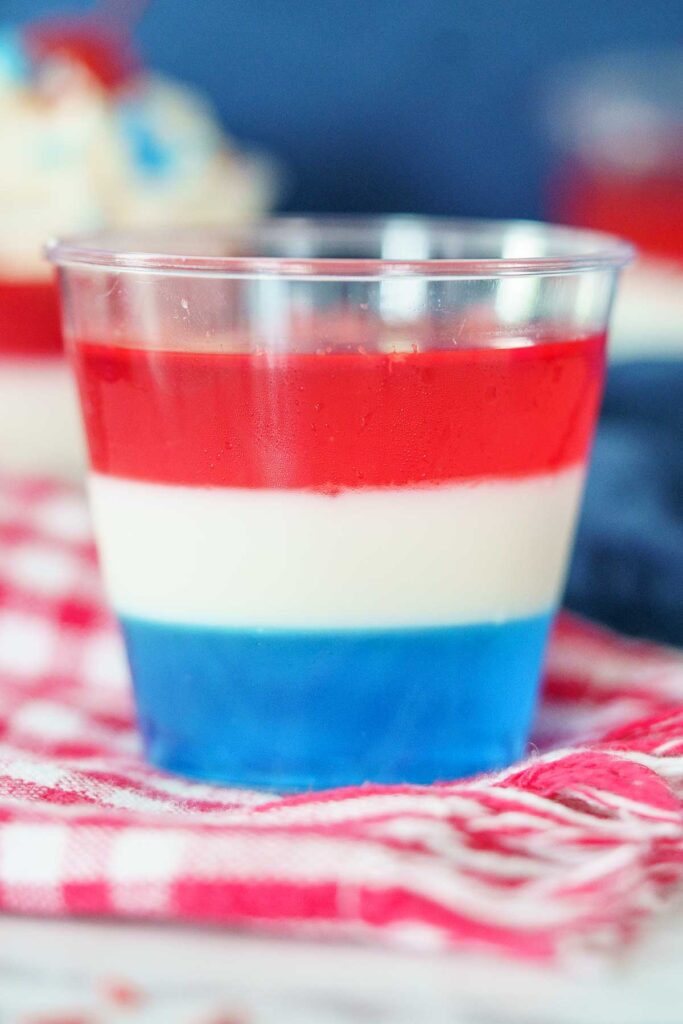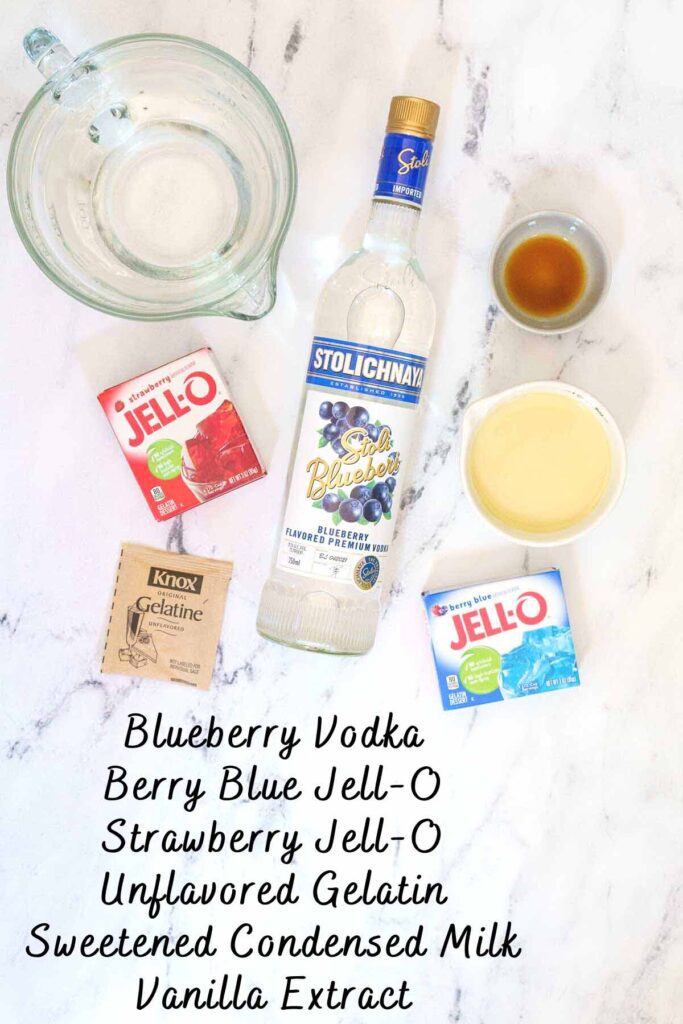 3. How to Make red white and blue Jello Shots
Jello shots are a great way to add some sparkle to your gathering – just combine your favorite flavored jello mix with vodka for a sweet, boozy treat. With a few simple ingredients, you can create an amazing array of red, white and blue shots that will be sure to impress your guests. Don't forget to make extra – they won't last long!
These aren't just great for backyard BBQs but pack along for camping and boating trips too!
(Recipe and photos from Peel with Zeal here.)
The Ingredients Needed:
Smirnoff Blueberry Vodka (other flavors to try: vanilla, lemon or whipped cream)
1 packet of Knox unflavored gelatin
Jell-O Berry Blue
Jell-O Red strawberry
sweetened condensed milk
By grabbing your ingredients in advance from Top Shelf, you can mix and mingle like a pro at your next event!
This recipe makes 24 shots.
NOTE: This recipe does require a proper waiting period between layers to ensure each color is perfectly defined.
4 Steps to making your Layered Jello Shots
PREP STEP: Before making the jello get your 1 oz cups set up on a baking sheet. I prefer to line the sheet with paper towels to prevent the cups from sliding around. If traveling get the ramekins with lids.
If your vodka isn't cold go ahead and pop it in the freezer now.
1 – Make the Blue Layer
Bring 1 cup of water to a boil. You can do this on the stovetop or in the microwave. Add the blue jello mix to a glass measuring cup or a small pitcher. You could also use a bowl, but it is easier to pour out of a small pitcher.
Add the boiling water and stir until the jello dissolves. Then add 1 cup of COLD vodka and stir.
Wait 10 minutes for it to cool slightly and pour it into your cups. Place the tray into the fridge and chill for 2 hours.
Wash your pitcher or glass measuring cup and whisk, and set aside. You will use them for each layer.
2 – Make the White Layer
To make white jello we need to color unflavored gelatin. Start by blooming your gelatin. To do this pour it into a small bowl and add ¼ cup of warm, not hot water. Mix well, it should turn into a thick goopy gel.
Like in the other layers we need 1 cup of total water. Add ¾ of a cup of boiling water to the condensed milk. Stir together and then add the bloomed gelatin.
Stir until the gelatin is dissolved, a small whisk is very helpful here. Add in your vanilla extract (optional, but yummy) and cold vodka.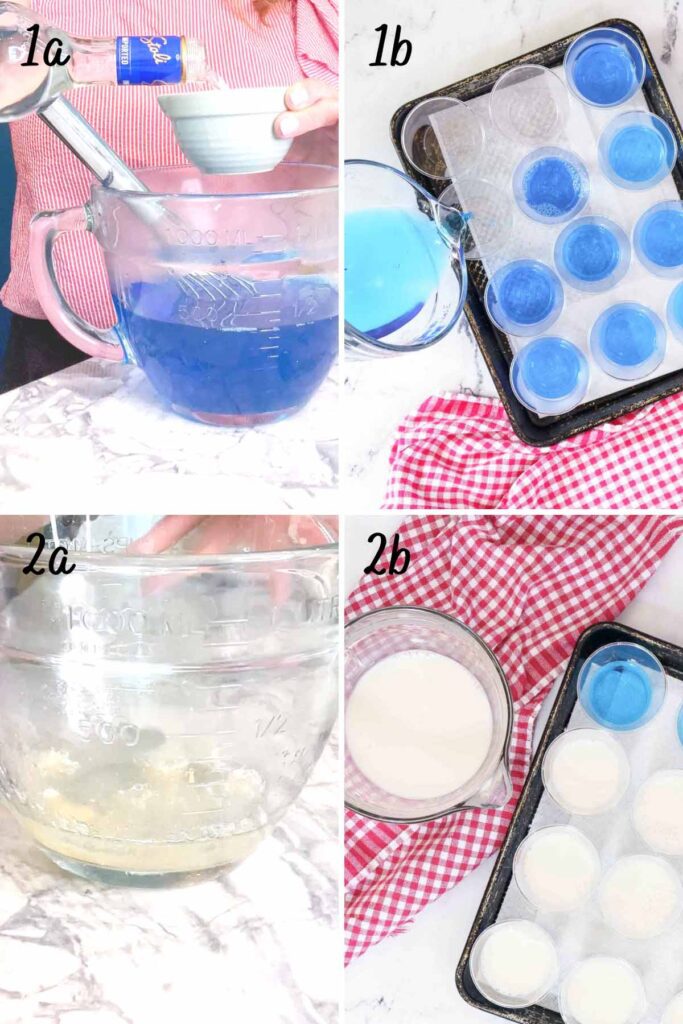 3 – Make the Red Layer
Repeat step one (i.e. the blue layer) for the red layer. Because of the tapered shape of the cup, your red layer may look thinner. You can also double the recipe for this layer to make a thicker band.
4 – Let Set in Fridge
Don't rush the setting process. I suggest 2 hours but 90 minutes seems to be the minimum for the jello layers and a tad longer for the milk layer.
5 – Serve Cold
You can serve these layer shots as is, or top them with whipped cream, sprinkles, and a cherry. Jello shots last in the refrigerator for up to a week but are best served in the first three to five days.
Patriotic Red White and Blue Cocktails
No matter what the occasion, you can't go wrong with these three red, white and blue drinks that are sure to make your summer BBQ unforgettable. There's something here for everyone! Each one is simple yet special enough to impress even the pickiest guest at your party. So don't forget to add some patriotic flair this season – cheers!
Grab your ingredients in advance from Top Shelf – order ahead, drive-thru, or walk in!